Double Triumph for Queenswood at National Team Tennis Championships
Wednesday 7 December 2022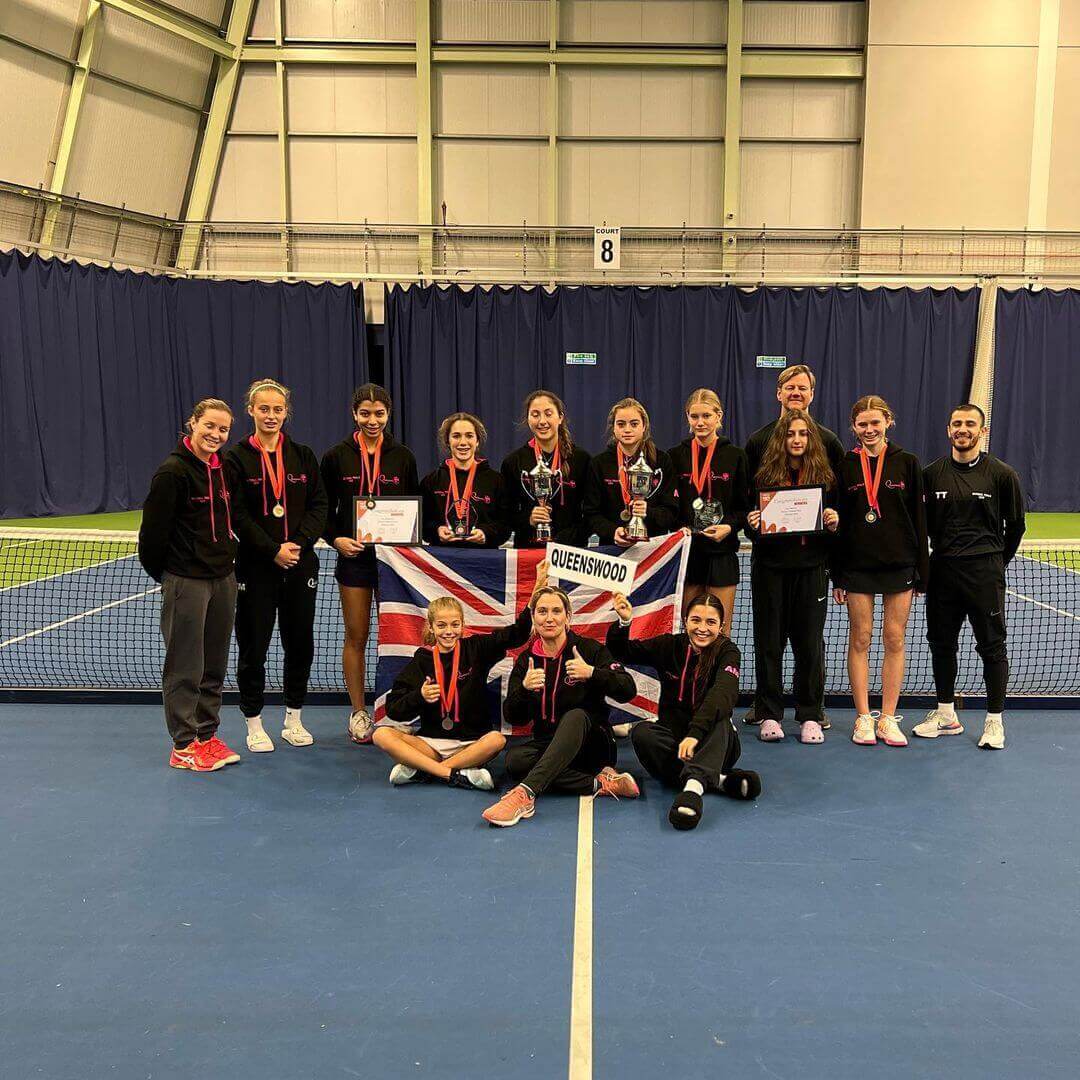 Queenswood's tennis aces are celebrating an unprecedented double victory at the National Team Tennis Championships in Bolton on the weekend of Saturday 3 and Sunday 4 December. It is the first time in the school's history that teams have taken the national title in two age groups simultaneously.
The competition started back in April with 2,500 schools across the country entering. Queenswood's U13 and U15 teams battled through the County round, Regional knock-out and Regional finals to reach the Nationals, where they faced the Regional winners from the South East, South West, North and Midlands.
The U13s did not drop a single match in their Saturday matches against Midlands winners Trent College and Northern champions Wilmslow High. On the Sunday, they defeated an impressive team from Talbot Heath, representing the South West, 8–4. Alice Haddad gave the outstanding performance of the weekend, dropping just one game in all her matches.
Above: The players rush onto court to celebrate victory over Talbot Heath
The U15 team faced Manor Church of England Academy (Northern champions) and Prior Park (South East) on the Saturday, setting up a gripping final against Midlands winners, Repton College. The match of the weekend was definitely Queenswood v Prior Park, in which Emily Noce saved two match points and fought back from 5–2 down to claim the victory.
Director of Tennis, Miss Catherine Sluter, was elated by the double victory. 'After Covid denied the U13 team the opportunity to take their place at last year's National Finals, the players were especially motivated to perform well this year. With the U15s also qualifying, there was fantastic team atmosphere and the girls represented Queenswood with exceptional grace and passion. I am incredibly proud of all of the team and the coaches. This is one very special group of players who have made Queenswood history. They now have their eyes on making the triple this year at Aberdare Cup in July. Watch this space!...'
Listen to Miss Sluter being interviewed on BBC Three Counties Radio: