This Week I Am Reading… Katie, Maggie, Rose-Ellen and Jemima Year 8
Friday 19 November 2021
Katie, Maggie, Rose-Ellen and Jemima in Year 8, are members of the Newsletter Team at Queenswood. Each week Mr Kelley and Mrs Leigh ask the team to share their ideas for a particular feature in the newsletter. Pupils who take part earn points for their House and an edible prize!
This week's challenge for the team was to write a short book review and here are the students' contributions. Well done, Year 8 – you earned House points for Hartley and Clapham North.
---
The Other Side of Truth by Beverley Naidoo - Review by Katie 8H
I am reading The Other Side of Truth as part of my English lessons. It's about a Nigerian family who are refugees and flee to Britain. The main characters in the story are the children Sade and Femi. Their father is a journalist who writes about the military leaders in Nigeria, which is a dangerous thing for him to do.
After their mother is killed, the children go to stay with their uncle in London but unfortunately their father has to stay at home as they are travelling illegally. When they get to England they face lots of problems and after Sade and Femi start a new school, Sade has to cope with bullies and also missing her father.
I recommend this book because it's very interesting finding out about the situation in Nigeria. Also it's an intriguing book because lots of drama happens in it and you really want to read on and find out what Sade does next especially about the mean bullies!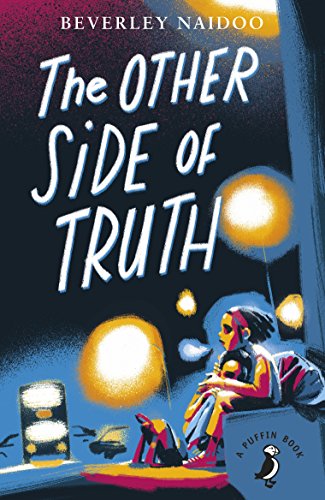 ---
The Parent Agency by David Baddiel - Review By Maggie 8N
A while ago, I read a book called The Parent Agency. It was about a boy called Barry, about 11 years old, who didn't like his parents. He thought they were boring, and they didn't let him do the things he wanted to do. And most importantly, his birthday party was always horrible.
One night things changed for Barry, he appeared in another world, where children ruled and were able to choose their parents! Barry lives the most awesome adventure he has ever had. I really liked this book and I think that many pupils at Queenswood would like it too.
---
The Middler by Kirsty Applebaum - Review By Rose-Ellen 8N
This week I am reading The Middler written by Kirsty Applebaum. I received this book from school from Bookbuzz, which is a reading programme organised by BookTrust.
This story is about a girl called Maggie who is the middle child in her family. Her elder brother Jed gets sent away to somewhere where only the eldest children go when they turn 14; this place is called the Quiet War. Maggie never thought much about the Quiet War until she met a wanderer from outside the town boundary called Una. This is when she starts to see things differently.
What I like about this book is how courageous Maggie is. Even though she is afraid, she speaks to herself and makes herself do what she needs to do in difficult situations.
I was very eager to find out what happened at the end. I would like to know more about what happens to Una after the end of the story. I would rate this book 4 ½ stars and I think it would be suitable for 9-13 year olds.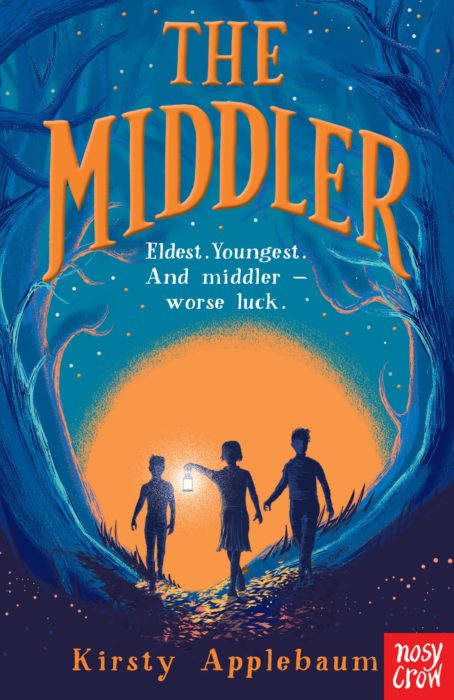 ---
Jemima 8H has been enjoying a Harry Potter fan fiction story told through the eyes of Remus Lupin. Here she reviews 'All the Young Dudes' by MsKingBean89.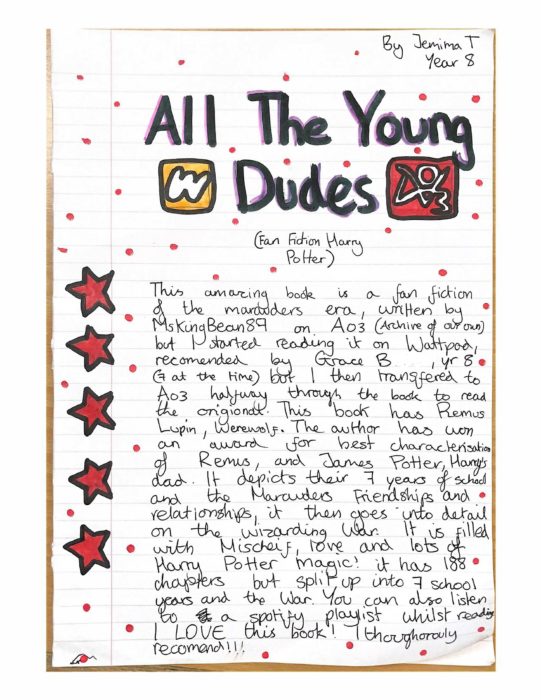 ---