The 40th Race: OQs participate in the 2020 Virtual London Marathon
Saturday 14 November 2020
On Sunday 4 October and for the first time ever, the 40th London Marathon took place virtually. Up to 45,000 runners, up and down the UK and across the world, took part. With 23 hours 59 minutes and 59 seconds to complete the 26.2 miles, which they could choose to run, walk or jog, the race brought together competitive runners, fitness enthusiasts and charity fundraisers in a safe yet inclusive way, crafted for the current pandemic.
---
---
Two of our OQs, Fizzy Egan and Emily Wills participated in the marathon and have generously shared their race day stories with us.
---
Fizzy's Story
"I was nervous about this marathon. Having run nineteen previous London Marathons, people sometimes assume I find them easy and sail round, but this is not the case! Choosing a route that wouldn't be affected by the forecast rain, and also being aware that my costume was not built for cold, rainy, windy days, meant I'd hardly slept during the week leading up to it. It was not the ideal day to run a lone marathon around the streets of Bedford, wearing a silly dress and helium balloons!
As I completed my first mile I heard a sound coming from my phone, it was Paula Radcliffe talking to me! The marathon app I use had scheduled one of my heroes to talk to and inspire me at each mile. Anyone who worked with me at the BBC knows how highly I think of Paula - colleagues used to keep me away from her on Sports Personality of the Year evenings as I'd be too excited! Well, as you can imagine, this totally overwhelmed me and I began to cry, I was already crying at mile 1!
The sun soon rose and I found myself running along the river where I came across my first fellow virtual runner. He was running towards me and we both waved excitedly. Passers by also began to realise what I was doing and would stop, cheer and shout words of encouragement. The magic of the London Marathon was well and truly present in the pouring rain, on a drizzly October Sunday in Bedford!
About to start the second half of the race, I realised I had lost my phone. Cue sheer panic! I was due to give a live radio interview at 9.15am and my phone was also tracking the distance I had run. Finally, after 35 minutes of searching, I found it lying on the pavement by the river. It was ringing, it was the Times Radio. I picked it up and they immediately asked if I was ready to go live! So I gave a rather waffled and emotional interview about running London Marathon Number 20!
In total my phone had missed 4.5 miles of my run, but thankfully I still had my trusty Garmin (GPS activity tracker) recording my correct mileage. Unfortunately, after 23.88 miles, just over a mile from home, my Garmin ran out of battery! From my pocket I could hear Paula congratulating me that I'd done just over 18 miles and to keep going; by now my obsession with her was starting to wane! Staying outside my home whilst walking on the spot in the rain and knowing comfort and warmth was inside, the temptation to give in was huge!
Even though I'd clocked extra mileage, I still had 2.4 miles more to go and couldn't give up now! After about 10 minutes the Garmin was ready to go again so I set off, frozen to the bone and stiff legged, to complete the longest 2.4 miles! After 5 hours and 47 minutes and well over 28 miles, I finally finished!
Before the pandemic I was worried about how I could make the 20th London Marathon different and unique, but now that it's done, I can safely say it was one of my most special, treasured, hardest, coldest and certainly wettest marathons."
By running her 20th marathon, Fizzy raised a remarkable £2,383 for CLIC Sargent who support young people affected by cancer. If you would like to donate to CLIC Sargent via Fizzy's fundraising page, you can do so here.
---
Emily's Story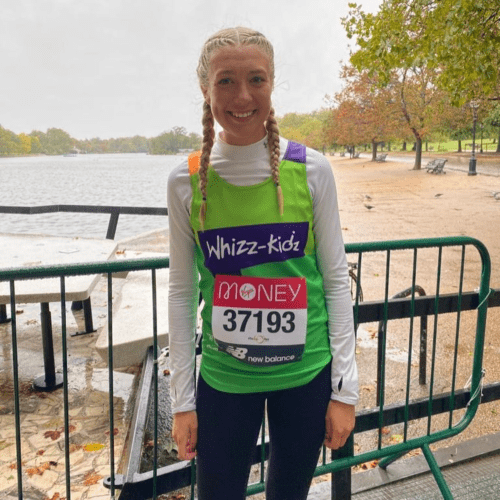 "I was incredibly lucky to earn a charity place in the 2020 Virgin Money London Marathon as part of Team Whizz-Kidz, a truly amazing charity who work hard to transform the lives of disabled children across the UK, supporting them to become confident and independent young adults. 2020 has been a hard year for everyone, particularly charities, so when the London Marathon was cancelled, I immediately wanted to get behind Whizz-Kidz and still do everything I could to raise the vital funds they need during these unprecedented times.
On a very wet and windy early Sunday morning on the 4th of October in Hyde Park, I took part in the Virtual London Marathon, where the conditions made the 26.2 miles even harder than I ever could have anticipated.
Despite excruciating pain in one of my knees from about 20 miles in, but with the support of my family and friends, I managed to cross the finish line in 4 hours 7 minutes. Whilst this time was a bit slower than my sub-4 hour target, I was still happy with the time, given the awful weather conditions. I need to give a huge shout out to my sister Alice, who recognising my struggle, ran with me and got me through 'the wall' around 21 miles in!
The marathon was without a doubt the toughest challenge I have ever undertaken, but also, one of the best experiences of my life. I look forward to running the real event in 2022!"
Emily's fantastic efforts have raised £2,454 so far for Whizz-Kidz. If you would like to contribute to her fundraising, you can still donate here.