OQ Announcements September 2021
Friday 24 September 2021
We are delighted to share with you exciting news from several Old Queenswoodians.
BIRTH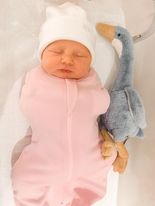 We extend our warmest congratulations to OQ Tiffany Norris (Wright) and her husband Patrick on the safe arrival of their baby daughter Tabitha. Little sister to Rupert and Ophelia, Tabitha was born on 14th July at 4.03pm.
As well as being very busy caring for her three children, Tiffany is the author of the acclaimed parenting guide 'Secrets of the Mummy Concierge', a heart-warming must read for any new mum.
We wish her and her family all the very best as they enjoy this precious time together.
---
---
MARRIAGE
Congratulations to OQ Jasmine Lossouarn and her husband Josh Wall who were married in July. On 17th July they enjoyed their legal ceremony at Islington Town Hall and subsequently on the 24th, they welcomed their guests for a larger ceremony at Josh's family home in Lichfield.
The happy couple met on their very first day at the University of Bristol where Jasmine was reading law and Josh was reading medicine. Several of Jasmine's OQ friends were able to join in the celebrations and she looks forward to meeting up soon with those who unfortunately could not attend due to travel restrictions.
We send Jasmine and Josh our very best wishes as they embark on their next exciting chapter as Mr and Mrs Wall.
---
It is a great pleasure to share the news that OQ and former Head Girl Sarah Larkin married her husband Donnchadh on the 27th August.
The happy couple tied the knot at a little rural church in County Meath, Ireland, and hosted their reception in Tankardstown House. Sarah and Donnchadh were particularly happy to welcome several OQ friends to the Emerald Isle for the celebrations.
We send Sarah and Donnchadh our very best wishes from the Queenswood community.
---
Wonderful news came all the way from Guernsey recently, where OQ Rosalyn (Jo) Rahme and her husband Mark Ferbrache were married in St Saviour's Church followed by a reception at the Old Government House Hotel.
Rosalyn was accompanied down the aisle by her mother OQ Diana Rahme (Heseldin) and special guests at the wedding included her Q geography teacher Josephine Lewis, Q physics teacher Dr David Lewis and long time school friend OQ Judy Luddington (Turner). It was quite a Queenswood reunion!
We wish Rosalyn and Mark every happiness as they enjoy their new life together in Guernsey.