OQ Announcements June 2021
Friday 2 July 2021
The sun is shining and the summer term at Queenswood has been a busy and happy one. We have been delighted to receive exciting news from several Old Queenswoodians, which they have kindly let us share with you below.
---
Congratulations to OQ Harriet O'Halloran and her partner Timothy James McCosh who were engaged on the 8th of June this year on the hill above Daymer Bay in North Cornwall. At a most romantic moment, Timothy proposed as the couple were drinking Cornish cider and watching the sun set.
We send Harriet and Timothy our very best wishes and hope that they enjoy planning their forthcoming wedding.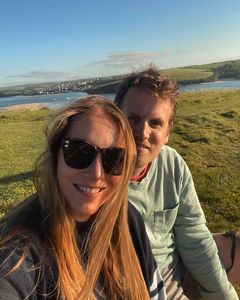 ---
We also extend our warmest congratulations to OQ Gen Galbraith and her husband Jack Pickup on the joyful occasion of their recent wedding.
The happy couple had planned for their wedding to take place in France but due to the Covid pandemic decided to marry at Hertford Registry Office on 29 May. They look forward to marrying all over again in France in 2022. Félicitations!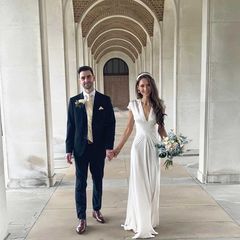 ---
We are delighted to share the wonderful news that Ms Milligan - Art Teacher at Queenswood and her husband Dominic have become new parents after the safe arrival of their baby daughter Isabelle Grace.
Isabelle was born on 27th April, weighing a tiny 5lbs 4oz and is already proving to be a small but mighty little one!
Ms Milligan is enjoying the adventure of being a new Mum and sends all OQs her very best wishes. We look forward to meeting Isabelle soon and send Ms Milligan and her family our warmest congratulations.