OQ Announcements December 2021
Monday 6 December 2021
We have received joyous new baby news from some of our Old Queenswoodians this month, which they have kindly allowed us to share with you below. We send them all our very best wishes as they enjoy this precious time with their families.
We extend our warmest congratulations to OQ Victoria Landeryou (Lee) and her husband Aaron on the safe arrival of their baby daughter Cressida Tamsin. Cressida was born on 2nd October weighing 6lb 9oz at West Middlesex Hospital.
Victoria went into labour as she watched the new James Bond film - Cressida is clearly a Bond fan already! We wish Victoria and her family all the very best as they enjoy this precious time together.
---
OQ Laura de Wilde (Petch) and her husband Oliver also shared the happy news of the birth of their son Ralph Edwin de Wilde. Ralph was born at Zurich University Hospital in Switzerland on 1st November weighing 5lbs 13oz.
Both Mum and baby are doing well and Ralph is a sleeping, eating monster, who is enjoying discovering the new world he has found himself in!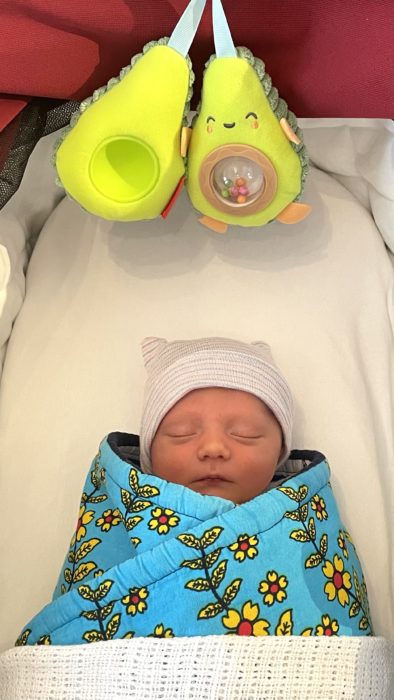 ---
We also wish OQ Sophie Riley and her family our warmest congratulations upon the arrival of their bundle of joy, Patrick James Riley-Kamin in November.
Sophie and her family currently live in Thailand and Patrick was born in Bangkok, like his big sister. They look forward to introducing Patrick to their wider family in the UK as soon as the pandemic restrictions allow.
---
We also received some wonderful news from Queenswood's School Counsellor and OQ Katie Bishop this month. Katie and her partner Morgan became proud parents to their new baby boy Hugo Morgan Henderson Prior.
Hugo was born on 26th November and weighed 8lbs and 6oz. Everyone at Queenswood is very excited to meet Hugo and there will definitely be a queue for cuddles!
---
Our huge congratulations also go to OQ Shara Campbell and her partner Niko as they welcome their beautiful baby boy Omari Christopher John to the world.
Omari was born on 30th November. only a few days before we went to print, and weighed 6lb 6oz. We wish Shara and Niko all the very best as they approach a very special 1st Christmas together as a new family.