OQ Rachel P wins prestigious University of Exeter prize
Thursday 4 November 2021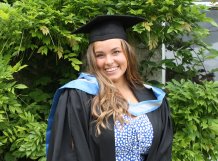 OQ Rachel P recently returned to Queenswood, and shared the exciting news that she has been awarded the coveted Sir Geoffrey Holland Prize at the University of Exeter.
The Award recognises final year students and celebrates academic excellence within a field related to Cornwall.
Rachel, who is studying Geography at the University of Exeter's Falmouth campus, has developed a technique to monitor landslide susceptibility in the county. The risk maps she produced have the potential to be very useful for land management in Cornwall, benefiting stakeholders, business owners and policy makers.
Rachel spoke to the University of Exeter website about her achievement: 'I'm thrilled to have won the Sir Geoffrey Holland Memorial prize and hope my dissertation provided an useful insight into areas at risk of future landslides and may help stakeholders avoid future economic and personal losses.'