OQ Kate Hughes' business, Lepogo Lodges is recognised by Conde Nast and Elite Traveler!
Thursday 23 February 2023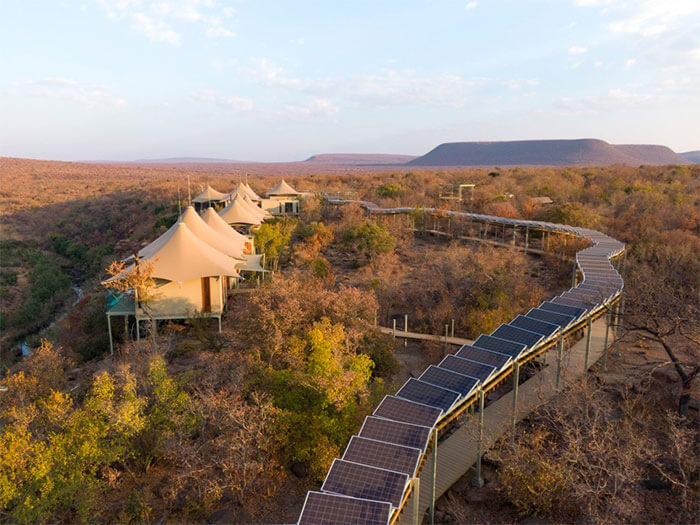 Kate, Class of 1998, was delighted to receive the Gold Sustainability Award, Gold Luxury Award and feature in the Elite Traveler World's Finest Top 100 Suites 2023 for Lepogo Lodges' Noka Camp. They also reached the Top 3 for South Africa in last year's Conde Nast Readers Choice Travelers Award.
The non-profit based venture is a conservation legacy offering a new level of safari luxury in unique and stunning villas. It is the perfect base from which you can explore (with your fully qualified guide) 50,000 hectares of malaria free pristine African wilderness where the Magnificent 7 – lion, leopard, elephant, buffalo, rhino, cheetah and wild dog – roam free.
With a specific focus on sustainability and conservation of their surroundings, Lepogo Lodges are completely off grid with all electricity being self-generated from a bespoke solar walkway as well as running a carbon offset programme, no single serve plastic on site and their sensitive approach to building meaning that no scars are left on the land.
Not only does the lodge do amazing work environmentally, it offers spectacular luxury and an incredible safari experience. Set on a 100ft cliff top with sky beds, infinity pools, yoga, sunken baths and astonishing views across the reserve, the world class cuisine and little surprises throughout your stay definitely make this a trip for the bucket list!
You can find out more here or contact Kate on [email protected]