Edinburgh 2023 – The Reviews are in!
Friday 15 September 2023
Year 13 Drama and Media students spent four days in August soaking up the unique atmosphere of the Edinburgh Festival Fringe.
They watched over twenty shows, ranging from hilarious improvised comedy such as Showstoppers! and Austentatious to profoundly moving drama, with puppetry, drag queens, physical theatre, circus and virtuoso musicianship. They also spent time exploring the beautiful city, including Arthur's Seat – and some even sampled the local delicacies (deep-fried Mars bars, anyone?)
We asked some students to write about their favourite moments from the trip. Scroll down to read their Picks of the Fringe 2023!
ISABELLA P-V (YEAR 13)
Bacon
Bacon is an extremely powerful play which delivers its rather heavy themes of child abuse, sexual assault, toxic masculinity and lasting trauma with impactful ease. It chronicles the tumultuous friendship between two very different teenage boys: the nerdy, introverted Mark (Corey Montague-Sholay) and the troublesome Darren (William Robinson). Their relationship begins to turn into something more than friendship, but the effects of Darren's abusive home life remain with him, leading him to treat Mark in increasingly harmful ways.
Both Sholay and Robinson deliver outstanding performances, creating characters so intricate and real that it almost physically hurts to watch their relationship goes south. Sophie Swithinbank's script, coupled with Matthew Iliffe's direction manage to tell this compelling and painful tale in just seventy-five minutes, with the piece moving at a tight but perfect pace as we watch Mark and Darren's relationship (and its damaging effects) unravel before us. Natalie Johnson's simple set, consisting of a large seesaw which Mark and Darren interact with throughout, serves as a flawless representation of the constant power imbalances (and occasional equilibrium) that the characters share. The lighting and sound design, done by Ryan Joseph Stafford and MWEN respectively, bring home the drama and danger of the piece that had already been set out by the actors, writer and director.
Overall, Bacon possibly outshines every other piece I saw at the Fringe Festival. Its powerful, moving story, intricate acting and direction, and impactful design place it far above any of its competitors. If you get the chance, SEE THIS PLAY.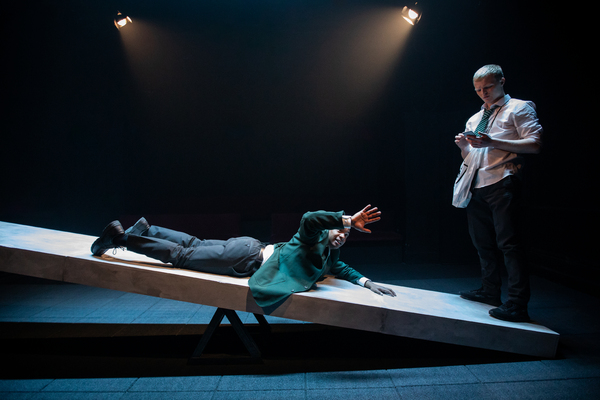 ---
ECHO A (YEAR 13)
Austentatious
Austentatious is an improvised period drama, set as an adaptation of a Jane Austen novel. It features a fictional 'long-lost Jane Austen title' chosen by an audience, which is then brought to life by the cast. As the title is decided by the audience at the beginning of the show, every performance is entirely unique. What specifically stood out to me about it, compared to some of the other improvised shows we saw at the Fringe, was the effective mix of the period drama and comedy genres.
Overall, I thoroughly enjoyed watching this and I found it very interesting and impressive how the actors and staff were able to pull off such an incredible performance especially since it is entirely improvised - they would not have been able to prepare beforehand further than creating the costumes and set. I would definitely recommend this if you ever find yourself at Edinburgh Fringe.
---
Bill's 44th Birthday
I saw the brilliant play Bill's 44th Birthday at the Edinburgh fringe. Based around a man named Bill who hosts a birthday party that no one shows up to, it incorporates a fantastic and unique use of puppetry which I had never seen before. It consisted of two actors holding a large puppet and using their eyes and movement of the puppet to portray his feelings and emotions, as well as moving the story on. Despite there being no dialogue, the play was a very captivating and emotional depiction of loneliness and ageing while causing me to engage and sympathise with Bill.