CHALLENGE 3: Share Your Platinum Jubilee Memories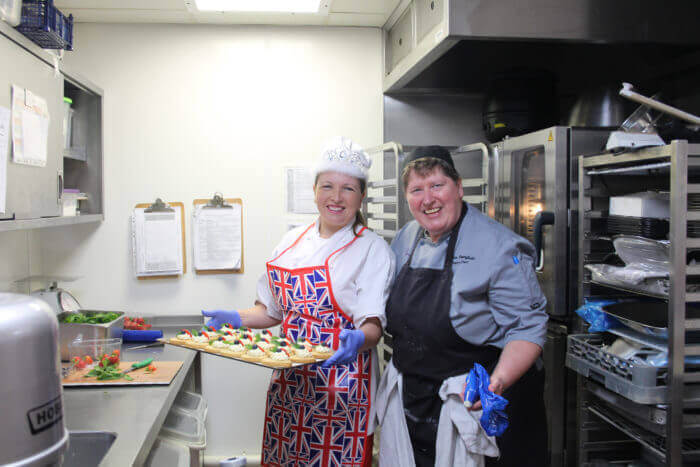 ---
We hope that you had as much fun as we did celebrating The Queen's Platinum Jubilee. It was quite a party wasn't it!
At Queenswood, each of our four Houses planted their own commemorative tree, which they will be able to come back and visit when, like their tree, they have grown and spread their roots. We also held our own Platinum Jubilee Pudding Competition and the winning pudding - Union Jack Shortbread - was made by our Principal Mrs Cameron and served to over 400 hungry students and members of staff.
Our celebrations ended with a fantastic Jubilee Lunch where we enjoyed a feast fit for The Queen and all wore feathery tiaras whilst singing along to our favourite party tunes.
This Purple Challenge is a descriptive writing task with a Jubilee theme. We would love to hear all about your Jubilee celebrations - perhaps you took part in an event at your school or joined your neighbours at a local street party, you may have even visited London over the weekend.
In about 250 words and using your best descriptive writing techniques to really bring your memories of this incredible event alive, tell us how you celebrated The Queen's 70 year reign.
One useful tip - the mnemonic MAPOS can be a helpful reminder of the five important devices to use in your descriptive writing. They are:
Metaphors
Alliteration
Personification
Onomatopoeia
Similes
Use the form below to submit your piece of descriptive writing. You can either type/paste your story into the box provided, or, if you'd prefer to write it by hand, you can upload it along with any photos you might like to share with us.
The closing date for this challenge is Friday 24 June.
Have fun!
My Platinum Jubilee Memories