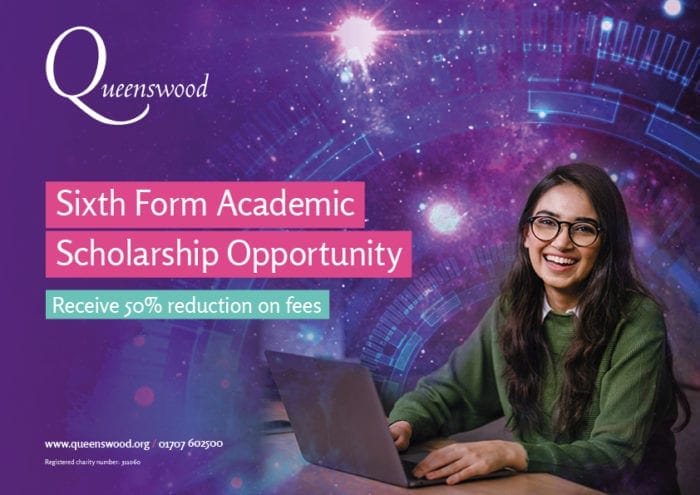 We are pleased to announce that, from September 2021, Queenswood is offering 50% reduction in day fees to successful candidates for the Sixth Form Academic Scholarship.
This offer is open to all current Year 11 Queenswood girls, as well as to external candidates resident in the UK.
The fee reduction is applicable for the two years of the Sixth Form course, on the condition that academic standards are maintained.
---
Our Sixth Form Academic Scholarship programme gives the academically gifted a sense of identity, pride and additional purpose as they reach towards ever higher levels of achievement.
Successful candidates for the Sixth Form Academic Scholarship will demonstrate insatiable intellectual curiosity, both in their particular fields of interest and in the wider world. They will have demonstrated the potential to achieve the highest grades, and will be aspiring to study at the most prestigious higher education institutions.
---
What's on offer
The programme is built around a termly cycle of university-style seminars. Members of the academic staff set stimulus material on a topic related to, but not covered by, the school's schemes of work, and scholars come together at the end of each unit to discuss their findings and defend their opinions.
In addition, scholars have available to them a vast array of subject-specific extension courses and other enrichment courses set by teaching staff for self-study. They meet regularly with their staff mentor to discuss aspirations and opportunities. They are actively encouraged to enter external competitions set by universities and learned societies.
---
How to apply
To apply for a Sixth Form Academic Scholarship, please complete the application form at the bottom of this page.
External candidates will also need to download, complete and return our registration form.
In addition to the 50% reduction in fees, candidates may also be eligible for bursarial support.
For further information, please contact [email protected].
---
Assessment procedure
All candidates will sit two 45-minute papers:
Verbal reasoning
A non subject-specific essay question (from a choice of three)
In addition, external candidates will sit 45-minute examinations in the four subjects they intend to study at A-Level.
All candidates will be interviewed by a senior member of staff. We anticipate that these interviews, and the invigilation of examinations, will be conducted via video-conferencing software.
The deadline for applications is Monday 1 February 2021.*
*The deadline may be extended in exceptional circumstances.
---
Application Form